Blessings of the Day: By God's grace, a great ID was found and we were blessed with our very first electrical appliance gift by a couple :) *thank you*

The journey was a long one staring @ different types of quotations. It was interesting and how in the process we've both learnt so much and we also argued a fair bit. (on colour schemes alone -_-)
It all started last year when we first learnt our keys were coming soon in the first quarter of 2009 and it got us abit panic. As our future home is in block C so the folks in Block A will get the keys first. Friendly neighbours posted their home photos online and we were lucky to have a sneak preview of how the home looked like. It got us really excited - the living room cum dining room look decently big enough and kitchen was miserably small (there goes my dream of having an kitchen island) and 3 bedrooms and 2 mini toilets.
It began with finding out more about contractors and interior designers aka IDs ~ who do we really want to look for. Contractors were known to be affordable but design wise you would have to design and coordinate yourself. IDs on the other hand makes your life a breeze by providing one stop solution for you but is known to be expensive.
I read the whole forum - www.punggol.org and also in the process got to know my future neighbours. It is really interesting these days how this kind of social networking websites works and you can be more prepared and less blur. Kg and I looked for a total of 5 Ids and 1 contractors quotations over the period of the past 4 months. It was long but at least we wasn't rushing.
Orange Cube
http://www.theorangecube.com/
One of my neighbour recently shortlisted them and I have to say their designs are really nice and unique. I came to heard of them when I was blog hopping looking at the people doing renovation process. The discussion with them went well until we were presented a quote of close to $20K. These was abit on the high side and they promised to throw in free gifts worth up to $4k which we thought we could get a better price and even added up which would not even reach $20K. When we asked if we could use the free gifts to offset the quote, the answers was yes but would not offset $4k but the free gifts wholesale price which was less than $2k -_- Of course we never went back to them since. Side Note: the ID who attend to us very good looking.. whahaha jem is smitten by him... LOL
A&D Design
http://www.interior.sg/
This ID is located in Upper Serangoon. They are quite patience people and the person who attended us was Raymond. His quote was about $16K and quite a number of things we liked to have and they belong to the list call "nice to have" not "good to have" or "must have". If not for a friend's contact, A&D would be the one we will likely to go with. They had done about 4 projects in our blocks and that's shows they are quite good.
Baroqued Design
http://www.baroquedesign.com/
Another popular ID engaged by most forums users. By far they have the best praised carpentry by all the home users. Price was on the high side. When we asked for the quote, it was around $16K and quite a number of items was not yet counted in yet. Certainly I would have to say their works are pretty well done and judging from my neighbours new home, they really look warm and cozy :) Looked for Lawrence.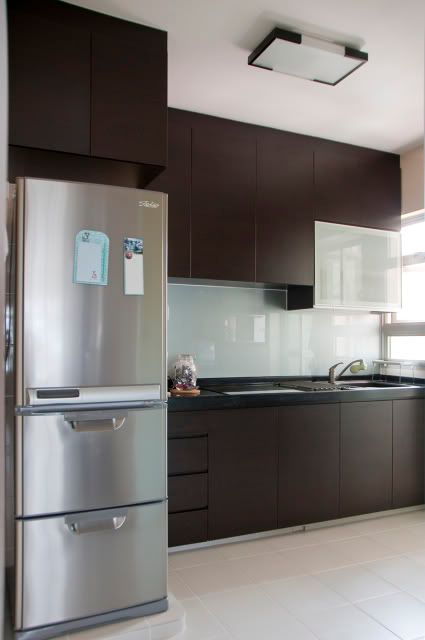 Very sweet Daddy who had made a warm and cozy home for his 2 sons. Total damage heard was $50K++
(include furnishings)
Summit Design
Only 1 neighbour of mine is using them. They were the last ID I had approached to before we made up our decision. Personally I felt the response was abit slow and we didn't really meet and we were only communicating via email. Maybe I am a very e-person, everything must communicate via email before meeting up. The quote was around $15K as well. But I have to say my neighbour new home is very nice looking and was full of praise when comes to defect checking and such - basically this ID is a very efficient person. *ironic - it just contradicts my impression*
Total damage is around $32K (includes furnishings as well)
Contractor - Friend's Contact
The contractor was quoted slightly on the low side cost about $14K+ to $15K+ (note compared with IDs this quote will cover more items). The reason why I had quite trusted this guy was kg's good friend's cousin who would be coordinating this. He was quite patience and explained to me when we met up at our friend's new home about what is needed and what's not needed. The only "negative" thing would be I had to come up my own design and tell him what I need. I was really concerned cos then I was doing my report and I felt that this would be a major Project to me - to design my own home. Of course it would be nice to design your own home and who wouldn't want? But when I had tried to create my own 3D drawings i think i was roaring away. Then I also got Kg to try to do 3D drawings too. Think he went bersek. Apparently that led us to the deciscions - pay more and let the expert plan and do. Don't bother to crack your brains till dust...
But my friend did a wonderful job in his new home!
Theme: Red & White
Finally drum roll - good friend's Kok Keong contact ...
Plush Creative Living Pte Ltd
Avee is Kok Keong's ex-colleague. She is really nice and friendly. When we met up with her, she was able to explain very clearly of what we wanted. She showed us many photos of her past works and advices what we can do and what not we can't do. As we bargained and negotiated, we finally managed to come out with the final quote which we both are quite happy with. What impressed us the most would be her persistence and professional personality. Personally she was the first lady in the IDs we had spoken to and the rest were all guys. Somehow, female IDs will have a more gentle touch and can communicate better with the customers :) Keegan and I were glad that after 4 months of marathon, we finally concluded our IDs searching and settled for this.
Of course friends really helps and i guess they had probably had gone mad with my consistence pestering. hehehe. Thanks Kok Keong :)